Student Life in New Zealand
New Zealand – The land of the long white cloud.
Located to the South East of Australia is the beautiful island nation of New Zealand. With a thriving economy, abundance of nature and a culture like no other, New Zealand is definitely a fantastic place to be.
Strong Economy and Work Opportunities

New Zealand has A strong economy, with the government policies favoring investment and great business sector.

The country ranks 53rd on the list of strongest economies based on GDP growth, which is great considering the small size of the country and its population.

This results in a good standard of living, with good wages as well. The country's economy is primarily based on international trade and tourism. The cou try also has great infrastructure, with railways, ports, cities, air travel etc. all being well developed.

Great standards of education

With the strong economy and good infrastructure, a good standard of living comes hand in hand. This is facilitated by the fact that the average income in New Zealand is high compared to the costs of living.

The country has great enthusiasm for sports, especially cricket and Rugby. The New Zealand sports teams have followers across the world and are great performers as well.

Free of crime and corruption

You heard that correct. New Zealand is one of the safest countries in the world to live in, with crime rates being extremely low. There are hardly ever any cases of violence or corruption in politics as well as policing. Pretty cool, huh?

Abundance of nature and beautiful destinations

New Zealand is one of the most in-demand destinations for travel and tourism, with a big chunk of its economy relying on travel and tourism. Beautiful landscapes, natural lakes and what not, coupled with a climate where you can ski in the mountains and fish in the sea, all in the same day!

Milford sound, Aoraki (mount cook), Waitomo caves, Fiordland National Park, Abel Tasman national Park, Bay of islands, and the list for scintillating tourism destination in New Zealand goes on and on!
---
Why Choose VAC Global Education?
Check out our new video on "How to Crack Student VISA Interview"!
One stop channel for all your study abroad enquiries! With 5000 + registered students, we has become one of the most preferred education platforms across India.
Use hashtag #AskVAC, to ask your questions on youtube!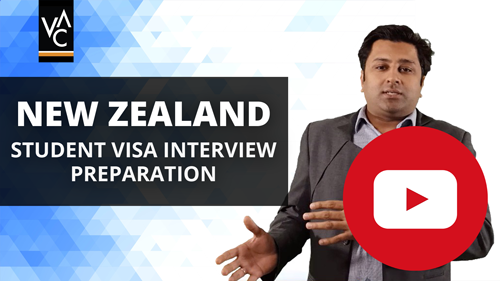 VAC Global Education is one of the top study abroad consultancies in Delhi NCR. Over the years we have been continuously striving forward in our field, providing the best counseling and assistance in foreign education for Indian students. May it be Australia, Canada or New Zealand, VAC Global Education is here for all your foreign education needs.
Every year thousands of Indian students dream of the best education and lifestyle for themselves. New Zealand is a country that can give you the same. With a strong economy, good career prospects, great standards of education and the cultural and scenic beauty the country is, we would not be surprised if New Zealand is your dream Destination to study.
You wish to study in New Zealand after 12th? Or maybe after graduation or post graduation? No problem. This is where the folks at VAC Global Education step in. We provide you with specific counseling based on your eligibility, interests and career choices. We provide IELTS and PTE coaching to you to ensure that you are qualified for admission in your university of choice. Then we also help you find the best course in the best University for you. We also provide VISA assistance and once you do reach New Zealand, we also help you settle down with our counselors who help you get stuff like accommodation without any hassle.
Our Process is simple and streamlined, you can read more about us here.