Universities in New Zealand
Study Opportunities - Why study in New Zealand?
New Zealand has some of the world's top ranked universities that provide the very best standards of education and research. Here are the 8 Universities in New Zealand.
University of Auckland

One of the best Universities in New Zealand is the University of Auckland. Located in the biggest city of the country, the University has a fantastic reputation for its education, especially in the sectors of Medical sciences, technology, etc. Here is the complete list of components of the university, the different faculties based on the kind of education they provide :

- Faculty of arts
- Business School
- Faculty of Creative arts and Industries
- Faculty of education and social work
- Faculty of engineering
- Faculty of law
- Faculty of Medical & health sciences
- Faculty of Science
- Liggins institute
- Auckland bioengineering institute

University of Otago

Founded in 1868, the University of Otago is one of the finest and oldest Universities in the country. Famous for its Medical and dentistry schools, the university also has a great reputation for providing quality education in the sectors of law, education, commerce, science and humanities.

The University of Otago houses the only school in New Zealand for dentistry. Nestled within the city of Dunedin, the University has great connectivity, with most of the campus being minutes away from the city centre.

Auckland University of Technology

The top university in New Zealand for engineering and technology is the Auckland University of technology.

The AUT has three campuses across the city of Auckland and has top-of-the-line infrastructure in all of them. The Manukau campus and the North Shore campus have one of the best sports facilities as well.

But the AUT doesn't just specify in Engineering. Here is the complete list of disciplines that the AUT offers courses in:

- Architecture
- Art & Design
- Business and Economics
- Communication Studies
- Education
- Engineering
- Health Sciences
- Hospitality, tourism and events
- Language and Culture
- Law
- Science
- Social Sciences

University of Canterbury

Located in one of the most beautiful cities - Christchurch - is the University of Canterbury. With an excellent Teacher to student ratio, the University of Canterbury is a great place to study abroad in New Zealand, as well as for natives. The University offers over 120 qualifications in over 150 different study areas.

Here are some of the best courses to study in the University of Canterbury:

- Accounting
- Art, History and Theory
- Biochemistry
- Business and sustainability
- Biotechnology
- Computer Science
- Economics
- Finance
- Health education
- International business
- Journalism
- Law
- Management
- Marketing
- Psychology

University of Waikato

The University of Waikato is one of the most value-for-money Universities in New Zealand. While the primary focus of the University is Enginering and Management, there are a lot of other disciplines that have quality programs and great opportunities.

Compared to other universities in New Zealand, the University of Waikato places a lot more emphasis on practical exposure and work experience.

Here is a list of the various faculties the University functions under:

- Faculty of arts and social sciences
- Faculty of Computing and Mathematical Science
- Health and sports
- Faculty of Education
- Faculty of Law
- Faculty of Maori and Indigenous studies
- Faculty of science and engineering
- Waikato management school

Victoria University of Wellington

Located in the capital city of Wellington is the Victoria University. It is the top ranked University in the country in research and quality of research. Every year the University contributes a great deal to the world's knowledge bank, and has several collaborations with international initiatives. Being in the capital city, the university has good engagement with the government and other national institutions.

Here are the subjects offered by the University:

- Architectural studies and building sciences
- Business
- Conservation and the environment
- Design, film and media
- Education and teaching
- English Literature and Creative writing
- Engineering and digital technologies
- Health
- History and philosophy
- Languages and linguistics
- Law
- Mathematics and Statistics
- Music and Theatre
- Politics and Public Policy
- Psychology
- Science
- Social Sciences

Lincoln University Canterbury

One of the most sought after universities in New Zealand is the Lincoln University of Canterbury. With a great importance of research and good co-curricular sector, the University is a great place to study in New Zealand.

Here are the subjects offered in the University

- Accounting
- Agriculture & Agribusiness
- Biochemistry
- Business & management
- Commerce
- Communication & Marketing
- Computing (Information Technology)
- Design
- Economics
- Engineering
- Finance
- Law
- Research
- Science
- Tourism


Massey University

Located in the Palmerston North City of New Zealand, Massey University is one of its kind. With impeccable Importance on perfection is what makes it different. The university also offers distance programs to over 30,000 students with unmatched quality and weekly video conferences.

Here are the subjects the university offers courses in

- Business
- Creative Arts
- Health
- Humanities and Social Sciences
- Science
---
Why Choose VAC Global Education?
Check out our new video on "How to Crack Student VISA Interview"!
One stop channel for all your study abroad enquiries! With 5000 + registered students, we has become one of the most preferred education platforms across India.
Use hashtag #AskVAC, to ask your questions on youtube!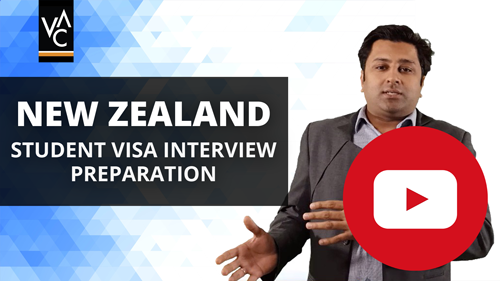 VAC Global Education is one of the top study abroad consultancies in Delhi NCR. Over the years we have been continuously striving forward in our field, providing the best counseling and assistance in foreign education for Indian students. May it be Australia, Canada or New Zealand, VAC Global Education is here for all your foreign education needs.
Every year thousands of Indian students dream of the best education and lifestyle for themselves. New Zealand is a country that can give you the same. With a strong economy, good career prospects, great standards of education and the cultural and scenic beauty the country is, we would not be surprised if New Zealand is your dream Destination to study.
You wish to study in New Zealand after 12th? Or maybe after graduation or post graduation? No problem. This is where the folks at VAC Global Education step in. We provide you with specific counseling based on your eligibility, interests and career choices. We provide IELTS and PTE coaching to you to ensure that you are qualified for admission in your university of choice. Then we also help you find the best course in the best University for you. We also provide VISA assistance and once you do reach New Zealand, we also help you settle down with our counselors who help you get stuff like accommodation without any hassle.
Our Process is simple and streamlined, you can read more about us here.